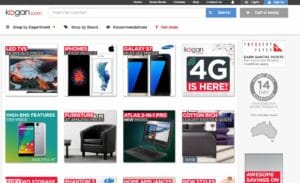 Pureplay online retailer, Kogan.com, will list on the ASX following the launch of its IPO.
The IPO has priced new shares at $1.80 per share to raise $50 million. The majority of funds raised will be used for growth capital, including investment in new products and categories, as well as marketing.
The offer comprises an institutional offer; a broker firm offer, open to Australian resident investors; priority offer, open to investors nominated by Kogan.com; and an employee offer, available only to eligible employees.
No general public offer of shares will be made. The institutional offer, broker firm offer and priority offer are underwritten by Canaccord Genuity.
Current shareholders – Founder and CEO Ruslan Kogan and COO and CFO David Shafer – will retain 69.2 percent of Kogan.com and will enter into voluntary escrow agreements.
Greg Ridder has been appointed non-executive Chairman, and Harry Debney as non-executive Director. Mr Ridder and Mr Debney bring international and local experience in retailing, consumer goods, packaging and logistics to the Board of Kogan.com. Both have a track record of significant value creation and business building.
"Kogan.com is part of a 'Next Generation' of online retailers," said Mr Ridder.
"In combining the data analytics opportunity offered by online retail with the deep technological expertise of its management and team, Kogan.com has created a vertically integrated business model with a market leading private label capability. This is complemented by a compelling range of in demand Australian and international third party brands, supporting website traffic and cash generation.
"This combination is unique among Australian online retailers and is a sustainable source of competitive advantage. As Kogan.com embarks upon its next phase of growth it is well placed to consolidate its leadership position in online consumer electronics and general merchandise, expand into new categories and explore vertical opportunities where the Kogan brand can deliver strong consumer recognition and loyalty."
In addition to underlying market growth, Kogan.com is pursuing growth in new verticals via Kogan Travel and Kogan Mobile; integration of the Dick Smith online assets acquired in April; expansion of Kogan.com's higher margin product ranges including private label and domestic third party branded products; and continued expansion of the Kogan community and fan base, including increasing website traffic and purchase frequency.
Mr Kogan called his brand "a challenger brand that stands for price leadership through digital efficiency".
"Our goal is to make in demand products and services more affordable and accessible. We want to ensure that everyone who invests in Kogan.com and becomes a part of our story, believes in our mission, learns about what makes us tick, and understands why we have had 52 million visits to Kogan.com's core website channels in the past 12 months," he said.
Ruslan Kogan has personally drafted a Founder's Letter to shareholders as part of the Prospectus. A full version of that letter is appended to this release.
The brand is expected to have its first day of trading on the Australian Stock Exchange on July 4, 2016.