Breaking the rules of conventional high street retail, Missguided makes a high-impact debut in physical retail with a uniquely Instagrammable new store at Westfield Stratford City in London.
This new playful store experience immerses retail-addicted girls in the spirit of the Missguided brand – fearless, fun and self-expressive. It's the first bold step in an ambitious strategy to rise from hugely successful online retailer to global leader in rapid fashion.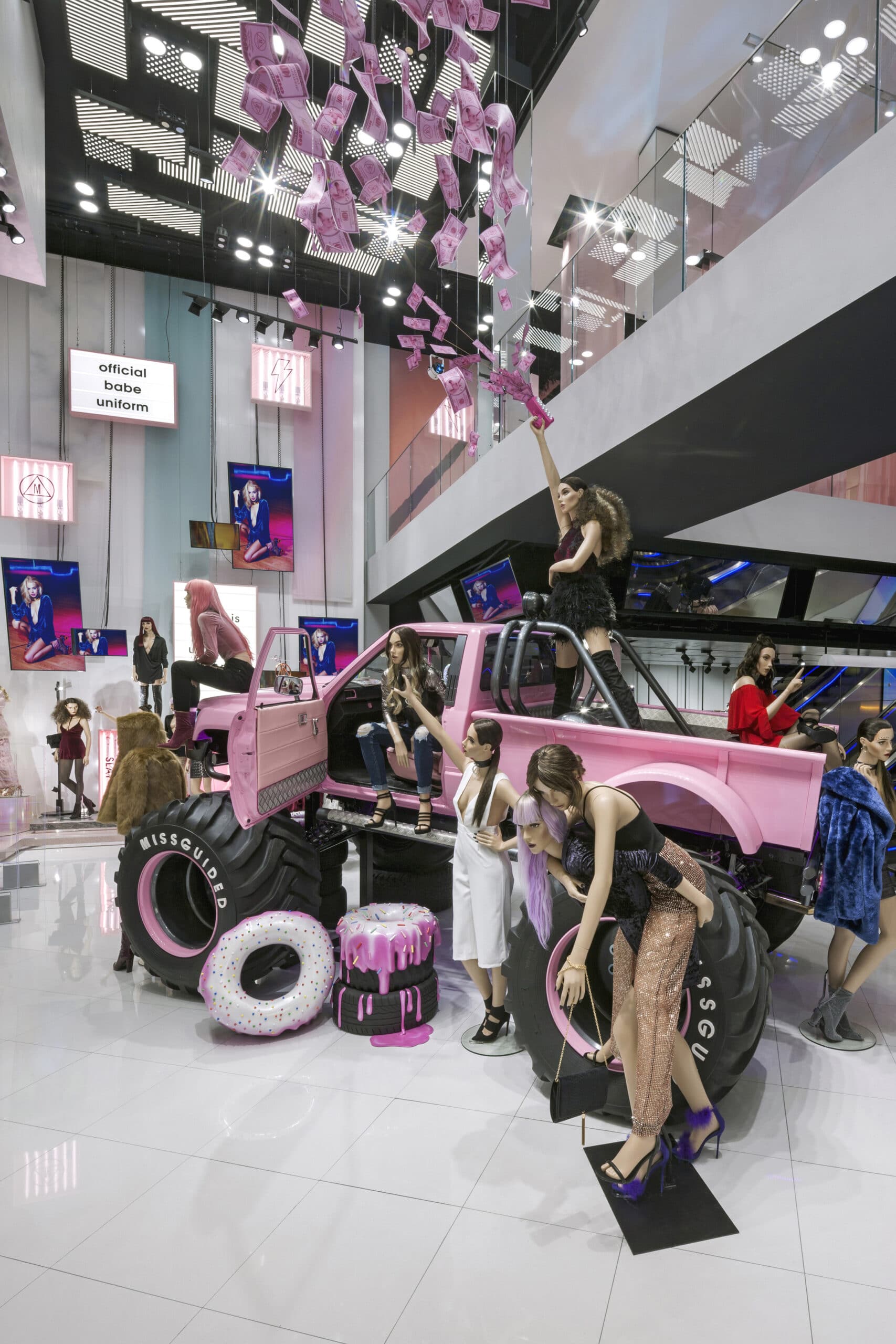 The store concept encourages girls to be creative and in constant conversation with each other by turning social media into a live, physical experience, making them feel part of an exciting community. Inspired by a TV studio, the space delivers a dynamic live stream of of-the-moment content, fashion and inspiration. It captures the Snapchat generation's short attention span, desire for the new, real-time digital displays and shareable moments, where co-created brand content comes to life.
The bold brand statement is just one of the many online brands starting to engage consumers through a combination of online and offline environments.
The store unfolds as a series of individual lifestyle sets replicating a TV studio, which disrupts the conventional shopping journey, and offers a reconfigurable, flexible format. Inside, customers encounter a pink monster truck with mannequins shooting dollar bills, a perfect backdrop for an Instagram moment. A catwalk display of mannequins cascades between the escalators and across the mezzanine bridge.
In a rapidly digitising world the balance between physical and virtual has been consistently shifting and this new sensory experience throws traditional navigation prompts out the window, in favour of free exploration and immersion.
Social interactions are at the heart of the concept. Accordingly, Missguided makes the brave move of bringing fitting rooms to the front of the store – recasting this area as an interactive lounge space, complete with emojis and cheeky signage including 'Get Naked!' and 'Send me nudes x' in the lingerie area. The comfy seating space encourage groups of friends to spend time showing off looks and exploring their personal style, while a concierge adds to the VIP feel and personalized experience.
In-store services will also be available, with WAH Nails in place for the first six months, offering customers to pamper themselves by getting their nails done, immersing themselves further into the consumer-centric experience. Partnering with aligned, all-female upcoming brands who offer a service the Missguided girl wants, the store creates a totally unique and personalised experience whilst browsing.
With this empowering, bold and accessible new bricks and mortar, Missguided now offers a seamless online/offline retail experience for its hyper-connected fashion-hungry fans.