Inspections aimed at ensuring effective management of psychosocial risks
SafeWork NSW is focusing on improving the management of psychosocial risks in workplaces. They have been conducting inspections in the Newcastle region to enhance workplace health and safety practices related to psychosocial hazards.
Psychosocial hazards refer to factors in the workplace that can cause stress and harm to employees, both mentally and physically. By effectively managing these risks, businesses can protect their workers, reduce disruptions caused by turnover and absenteeism, and improve overall organisational performance and productivity.
Excessive workload, time pressure, inadequate support, communication, sexual harassment, aggression, and violence are common psychosocial hazards in the retail industry. These factors can lead to heightened stress, feelings of isolation, and disengagement among employees.
What to expect during an inspector's workplace visit
During an inspector's visit, they will inquire about how work health and safety is being handled in the workplace. They will review the WHS management system, including policies, procedures, and documentation that demonstrate the implementation of an effective system.
Inspectors evaluating psychosocial management will ensure that relevant psychosocial factors have been identified and that the workforce has been involved in the process through consultation, which is a legal obligation. It is essential to have measures in place to address identified psychosocial hazards, such as strategies to reduce stress, promote work-life balance, provide support and resources, and foster a positive work environment.
Guidance for identifying and managing psychosocial hazards: Consulting the Code
If you are unsure about identifying psychosocial risk factors or implementing strategies to mitigate them, you can refer to the Code of Practice for Managing psychosocial hazards at work. It is important to also consult the relevant state-based code or guidance material if you have retail operations in other jurisdictions.
An approved code of practice provides practical guidance on how to achieve compliance with work health and safety standards, including effective risk identification and management. It is important to consult the Code of Practice as it assists duty holders in meeting their health and safety obligations under the WHS Act and WHS Regulation. Following the code's guidelines will support compliance with relevant duties and responsibilities.
By actively managing psychosocial hazards, businesses can create a safer and healthier workplace, improve employee satisfaction and retention, and contribute to overall business success.
Free OnDemand Webinar for ARA Members: Navigating Psychosocial Risk Regulations in Retail
Want to learn more? ARA Members can now access our recent webinar on Navigating Psychosocial Risk Regulations in Retail. This interactive session, designed specifically for retail businesses, provides you with the flexibility to participate at your own pace.
Gain insights into changing health and safety laws, understand the implications of psychosocial risk regulations, and learn practical strategies to manage these risks. Don't miss this opportunity to stay informed.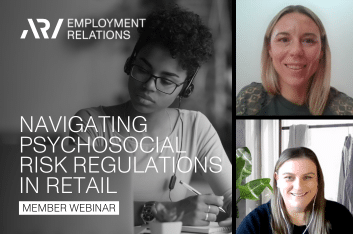 Click here to view the webinar
Disclaimer
The material within this update is provided for general information and educational purposes in summary form on topics that are current when it is first published. The content does not constitute legal advice or recommendations and should not be relied upon as such.