In an Australian first, business banking is now as easy as "Hey Siri" with the latest customer release from SME mobile banking challenger, Tyro.
Using Apple's smartphone assistant, Siri, Tyro Smart Account customers can access their daily settlements from their Tyro EFTPOS terminals, which can be used to pay bills and business costs immediately by asking something like, "Hey Siri, pay $250 to water bill using Tyro".
Currently, no other transaction account in Australian allows Siri to make payments.
Tyro CEO Gerd Schenkel said the technological breakthrough would allow owners to spend less time on paperwork and more time on growing their businesses.
"Using Siri to pay bills is the way of the future for Australia's two million businesses, who employ seven million Australians and are the bedrock of the national economy," Tyro CEO Gerd Schenkel said.
"With nearly eight million iPhone users in Australia, this is a win for time-starved merchants.
"Small and medium sized business owners are always on the go. Using Siri gives them the freedom to pay bills and other overheads wherever they are, in only a few seconds and with minimal key strokes."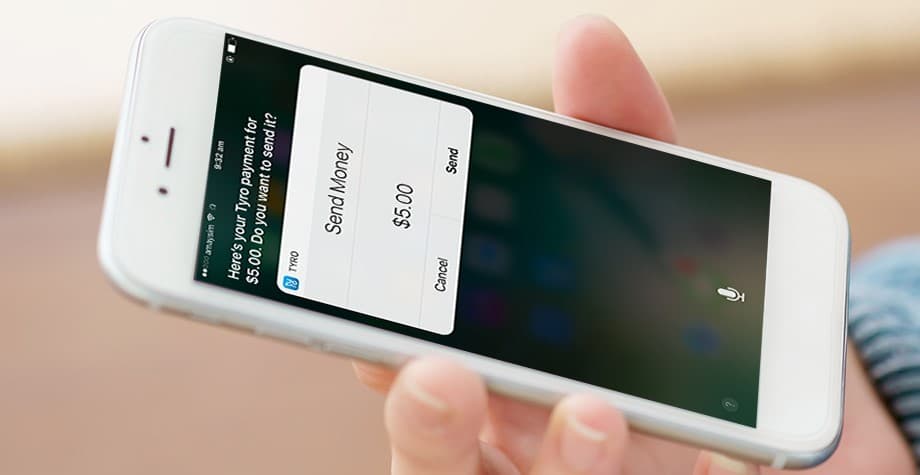 A recent Tyro report found that banking red tape is robbing almost one million Australian businesses of four weeks' productive work time a year, costing the national economy almost $7 billion annually.
This equates to an extra 20 working days a year for each business – or the entire annual holidays of the average employee.
The report found that 44 per cent of Australian SMEs, or 880,000 businesses, spend more than three hours every week checking, entering, paying and reconciling data, costing each business an average of $7,800 a year.
The Tyro Smart Account seeks to solve that problem by providing a fee-free, interest-bearing account in your pocket, accessible via the Tyro smartphone app, available on iOS and Android.


About Tyro
Tyro is Australia's only independent EFTPOS banking institution and is the first new entrant into the banking business in more than 18 years. Tyro holds an authority under the Banking Act to carry on a banking business as an Australian Deposit Taking Institution (ADI) and operates under the supervision of the Australian Prudential Regulation Authority (APRA). Tyro provides credit, debit, EFTPOS card acquiring services as well as a transaction and deposit account integrated with Xero cloud accounting. Tyro takes money on deposit and offers unsecured cash-flow based lending to Australian EFTPOS merchants.
For more information, visit www.tyro.com