A deep dive into social media's emerging influence in the buying decision process.
The last thing I bought online was an NBA basketball jersey for my boss' German Shepard. Now, I know what you're thinking: what possessed me to make such a specific purchase? Is there such a thing for dogs and if so, where can I get one?
There's really only one answer to these questions: social media.
Social media forms a global customer base
You would be correct in stereotyping 'millennials' as the predominant perpetrators of the social media movement. However, recent trends have shown we are no longer the only group succumbing to this addictive outlet. The likes of Facebook, LinkedIn, Twitter and Snapchat have cast their nets vast and wide, and as a result have experienced significant usage growth among those aged between 30­–49. Not only this, but these social media platforms have over two billion active users worldwide – that's more than 29 percent of the world's population, including over half of Australia's population. So, what are the implications of this for established or emerging retailers? And how can conventional millennial behaviour (like purchasing a basketball jersey for a dog) be a testament to social media's influence in the buying decision process?
Fishing where the fish are
Social media plays a huge role in revolutionising the customer lifecycle. The saying goes that in order to capture the most fish, you need to be where most of the fish are swimming. Continuing the metaphor, it's obvious that Facebook and other networks are somewhat trout farms when it comes to social media. They give retailers the opportunity to drop a line into a densely-populated sea of demanding consumers and capture a market proven to be hungrier than ever. And I don't just mean for instant self-gratification (although this has surged tremendously).
Sensis' most recent Social Media Report (2016) revealed that over four in ten customers will review a retailer's social media presence before committing to a purchase if they have not previously purchased from that retailer's website. While 59 percent of those that used social networks for product research went on to make the purchase online (see figure below).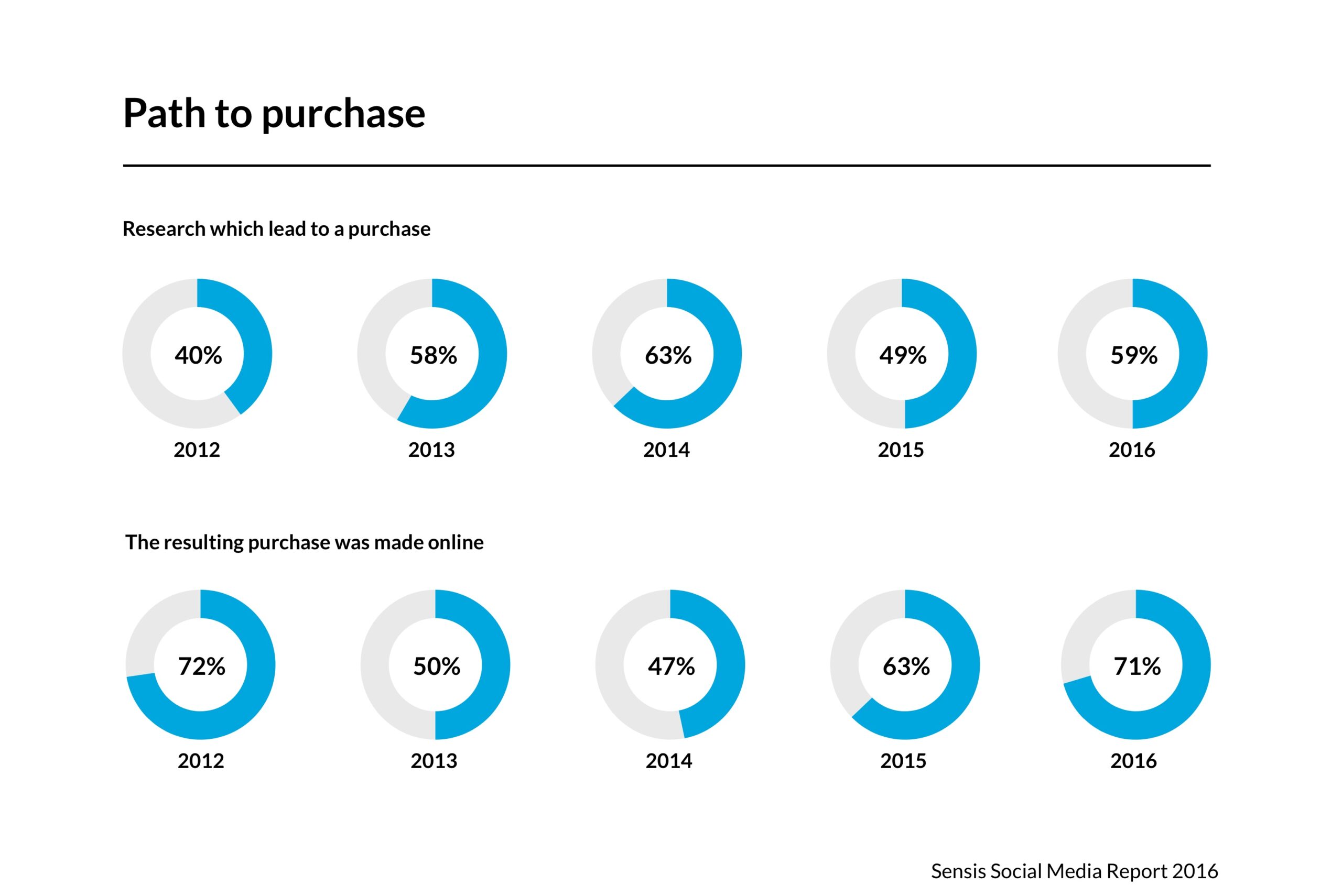 This demonstrates a number of notable shifts in the marketing landscape.
Consumers are becoming savvier social scavengers. They're harnessing relevant social platforms at various points of their path to purchase to help make more informed buying decisions.
Rather than playing a passive role in the discovery phase of a brand, social media's pervasiveness on all touch points – from initial awareness through to direct purchase – is indicative of its weight in determining a consumer's perception and trust for a brand. This is particularly the case for first time buyers who are approximately 50 percent more likely to turn to social media than a repeat buyer.
Attention is inevitably shifting from traditional forms of advertising such as out-of-home and television to channels where brands have to work for a customer's trust and where they are in full control of the content they interact with.
Established or emerging retailers should drop a line into this sea of opportunity. Becoming a trusted resource early on through the means of social proof will not only appeal to a customer, but go on to retain them.
People use social media to connect
Imperative to that trust, and something too many retailers fail to exercise, is the sole purpose of social media. Businesses still think of it as purely a marketing tool used to constantly push out messages, as if it's the middle of Times Square in New York City. This is something I like to call 'spraying and praying'. The reality is that social media was built on the concept of connecting with friends. This foundation implies that retailers need to interact with consumers, form a relationship with them and be, well… social.
Customers expect immediate action online
It's not just a coincidence that the ability to review a company page, comment, Tweet, Snap and direct message on such chat apps as Facebook Messenger are quickly becoming the predominant means of communication with businesses. The sheer convenience, personalisation and decision support of 'conversational commerce' means consumers can completely bypass the need to call, email and even visit a brands website. The results speak for themselves in the Sprout Social Q2 2016 Index where 34.5 percent of people appointed social media as their number one choice for customer care – go figure.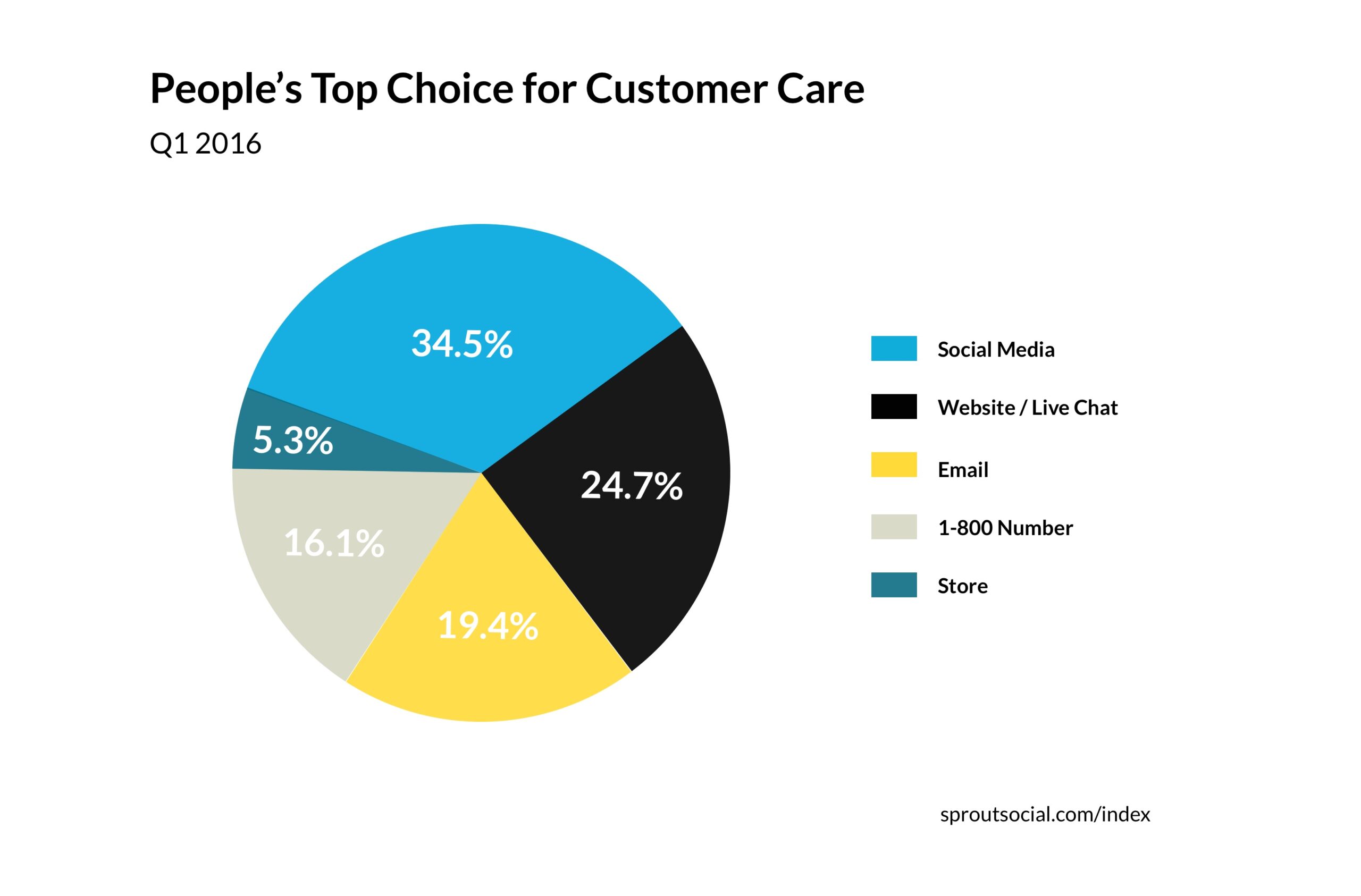 Going back to the 'millennial' purchase, four weeks after committing to a dog jersey from the NBA Store, there was no sign of a package or a confirmation email; the NBA had officially disgruntled a customer. So I did what any logical customer would do, I turned to Twitter to express my concern. To my pleasant surprise, the NBA Store Support tweeted back within 24 hours, alleviating four weeks of built up anxiety and a potential PR disaster. How? Have a look at how they addressed my concerns in the tweet trail below.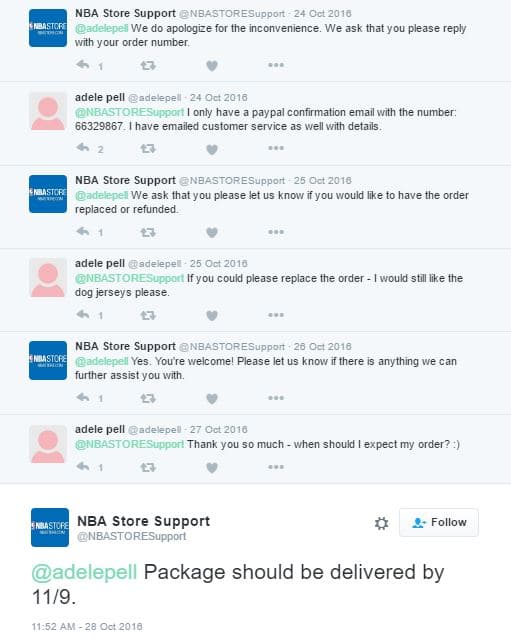 The moral of this social saga is that social media is increasingly cementing itself as one of the biggest disrupters of the path to purchase. By infiltrating the customer lifecycle, it has the ability to influence the buying decision at any point. Businesses now have the opportunity to tap into a new and ever-evolving audience who they can interact with directly in order to sell like never before. But in order to avoid being a fish out of water, the right decisions need to be made now.
As for the basketball jersey, I received it in the end, which made for one happy customer, German Shepard and boss. I can confidently walk away from this experience with #noregrets.
Adele Pellizzari from digital marketing agency, GMG Digital. For more information contact 1300 058 520, or visit http://gmgdigital.com.au/discover/