When Nathan Keating joined the Retail Ready Jobs Program three years ago, he never expected he would find a career. He's come a long way since completing the seven-week course, which provides passionate jobseekers with a pathway to retail employment through an intensive education and job placement program. We caught up with Nathan at Officeworks, Bourke Street, where he has just been promoted to Business Specialist.
What made you sign up to the Retail Ready Jobs Program?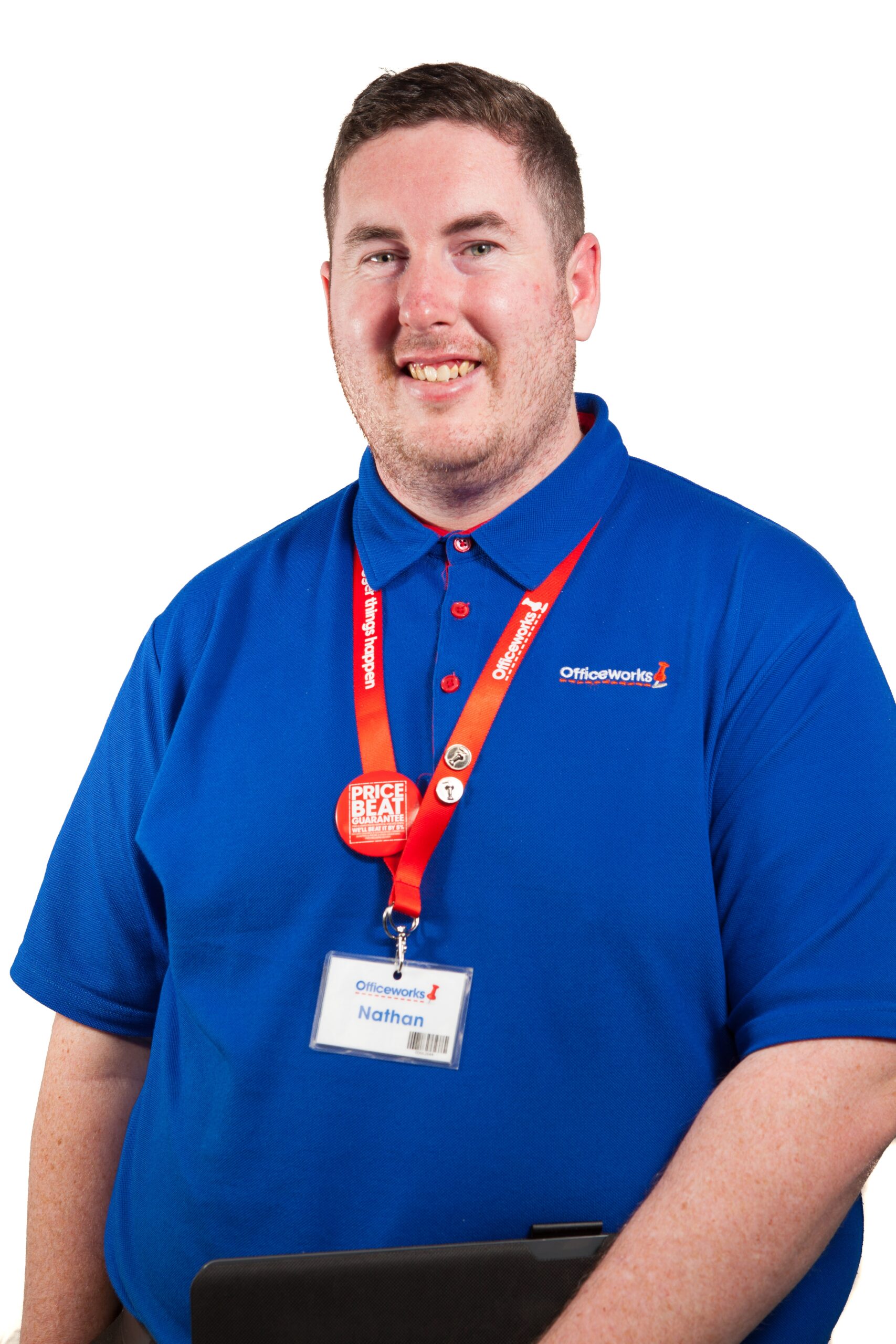 I was on the dole at the time, and still living at home. I was over not being able to find work and was excited to try something new. So when my employment service provider put me onto it, I thought, why not? I've always had an interest in retail. I think it suits my personality.
Did you have any expectations going into the program?
To be honest, I wasn't sure what to expect, I just knew I was eager to learn. Our trainer, April, was a great teacher and mentor. You could tell she cared about our progress and she supported us through the program from start to end.
During the course, was there a particular area of retail that sparked your interest?
I was immediately drawn to the customer service side of retail. The role plays were really fun. They helped me open up and get comfortable speaking to people. Once we started the work placement I found that I used the techniques I learnt in the program to engage with customers.
After the training program finished, you had your job placement at Officeworks's Southport store. Tell me about that experience.
It was really positive. I worked hard to make a good impression. They decided to keep me on as a casual for their back-to-school period. Once it was over, I proved myself enough that I was offered a permanent part-time role.
What impact has the course had on you?
The Retail Ready Jobs Program gave me the confidence boost I needed to get out there and give it a go. Having that foundation behind me was so important when it came time to enter the workforce. The program has made be believe in my abilities and now I feel comfortable making decisions. Learning to tackle issues in a safe, classroom environment made it easier to act once I was faced with them in a real-life scenario.
When did you decide you were interested in turning your retail skills into a career?
My dad always worked in retail and he loved it. Once I decided university wasn't for me, I thought I'd give it a shot. I've enjoyed every moment of it. I love helping customers and I'm a good problem-solver.
Tell me about the move to Melbourne.
I was coming to up to my 30th birthday, and I was ready to make a change. I arranged a transfer from Officeworks' Southport store to their Bourke Street store in Melbourne. Within three days, I was working at the store. It's been a learning curve but I'm happy I did it.
So, I heard you just got a promotion. Congratulations! Tell me about it.
I've been promoted a full-time position, to what Officeworks calls the In-Store Business Specialist. . I now deal with all the business' customers, helping set up accounts and dealing with their orders and payments.
How are you finding it so far?
It's a lot more responsibility. I have KPIs and targets that need to be met, but it's definitely a step forward for me and I've been able to use my customer service training to build a good rapport with our clients.
Do you have any future career goals?
The next step up would be a Business Specialist Acquisitionist, which is out on the road face-to-face with the company's customers. If I work hard enough, one day I would like to move into that role.
What advice would you give to someone who was looking to start a career in retail?
I'd tell them to do the course because the really training sets up you up to succeed.
The ARA's Retail Ready Jobs program provides an entry level employment pathway for jobseekers into the retail industry. This program is free for all sized retailers, connecting passionate jobseekers with job-active providers and positioning retail as a long-term fulfilling career.
For more information regarding the ARA's Retail Ready Jobs program please visit https://www.retailreadyjobs.com/