Many local retailers are considering how they can get one-up on their competition. In the modern, data-driven retail landscape, technology is a key investment in gaining a competitive edge. It's all about finding the diamonds in the data – drawing insights from business information to deliver better outcomes.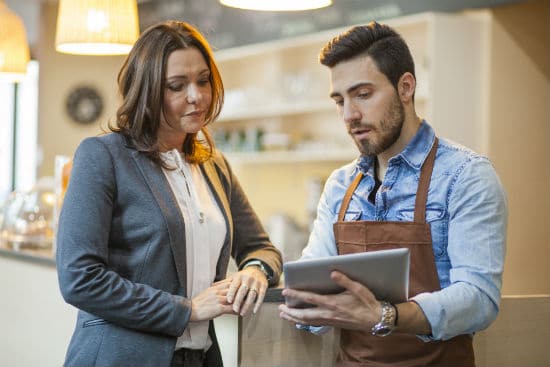 E-commerce has cemented itself as an indispensable, revenue-driving tool. It helps retailers generate more sales by building delightful customer experiences. But, the often-forgotten piece of the puzzle, is the impact it can have on another stakeholder to your business – your employees. Getting this data to the store-front in real time empowers retail assistants to deliver an experience every bit as insightful as the one found in an online shop.
Most retailers know that having a 360-degree view of their customers is key and can see customer data as a rich source of information. These patterns and customer intent indicators can be used to build a contextual picture of who is buying products. It allows retailers to identify high-value customers and gain an understanding of who has the propensity to actually purchase. But fewer retailers think about applying this data to the shop-floor.
Frontline staff can't read minds but, properly equipped, can better understand customer intentions and satisfy their needs. Technology can bridge this gap by helping provide an omni-channel view of the customer. By overlaying customer data across marketing, commerce, service and sales, floor staff can identify and deliver a personalised and contextual experience. This simple type of information is available elsewhere in the organisation so why not empower the staff who need it with the data when they can best leverage it?
The role of retail assistants has changed dramatically, as consumers seek consistent and relevant interactions no matter what channel they use. In-store employees need to be empowered to engage a customer on the sales floor, upsell or cross-sell them based on what they have viewed online and have the tools to present personalised offers to customers as they shop.
A truly integrated, omni-channel e-commerce solution allows you to put all the power of your commerce assets in the hands of your store assistants. They can share digital assets, such as video and technical data normally found on the web, with the customer as part of a conversation. This gives the consumer confidence and empowers assistants to sell more, resulting in increased sales.
As the face of your brand, staff are an extension of the experience you create for your customers. We demand a high level of knowledge from these staff members, making it a critical part and often under-resourced part of the purchase journey.
Today, customers do not see a distinction between their online and offline experience, and they expect consistency across these touch points. Given there is little product differentiation across many sectors, if brands fail to deliver this now expected level of service, consumers will seek a better experience elsewhere.
An omni-channel customer experience is not only a retail imperative, but this level of data-driven service is no longer a pipe-dream either. Empowering associates with tools, information, support and incentives to deliver exceptional in-store experiences that not just meet, but exceed online experiences is a reachable target that many leading retailers are heading towards today.
As retail grows increasingly competitive, market-leading omni-channel systems are becoming more demanded by customers. A solution which empowers in-store employees on the shop-floor, as much as it enables consumers online will add exceptional value to your business, and ultimately improve your bottom line.
Stuart O'Neill is Head of SAP Hybris Australia and New Zealand. SAP Hybris is a digital commerce software, creating relationships between businesses and their customers. For more information visit hybris.com