Employee engagement is a worldwide problem—but the retail industry is particularly affected. The Employee Engagement Trends Report from Quantum Workplace revealed that nearly 35% of retail employees in the United States (US) feel disengaged— that's lower than the national average for all industries in aggregate. Low engagement affects a retailer's bottom line as disengaged cultures contribute to a higher staff turnover, lower sales and poor customer metrics.
Of particular concern is what the study showed about co-worker connections. The following categories as rated by retail employees all decreased from the previous year:
Whether coworkers consistently 'go the extra mile' to achieve great results (–2.7%).
Whether employees can depend on the other members of their team (–0.6%).
Whether close employee colleagues show commitment to producing top quality work (–0.5%).
It's not just the US that suffers from engagement woes—Australia also faces similar problems. A recent Gallup poll shows the vast majority of Australian workers (76%) feel some level of disengagement. This leads to problems for employers and employees alike, not the least of which is high staff turnover that can negatively affect the customer experience (CX). Further, as CEO of The Retail Solution, Roger Simpson notes "Motivated and engaged employees also stay longer and inspire others to perform, along with numerous other positive outcomes."
Driving Disengagement
A few industry trends are exacerbating these engagement-related problems for retailers. For example, online retailers like Amazon are getting so big that many employees in traditional stores are understandably anxious about whether they'll be needed in the future. In addition to this, many retail employees are non-desk employees (NDEs) who have enhanced needs around communication. As major players like Macy's close stores and cut thousands of retail jobs, employees become more focused on employment than engagement. This is certainly true in Australia, where Amazon Go is on deck to be up and running in less than a year.
There's a catch to this situation, however, at the same time that these industry transformations potentially threaten employee engagement, finding a way to better engage retail employees can become a retailer's secret weapon.
So how can the retail industry effectively drive employee engagement and retain talent in this climate of job insecurity? Giving pay hikes is one tried and true strategy to improve the employee experience (EX), and many big box retailers like TJ Maxx have already jumped on this bandwagon. The disadvantage to using money as an incentive is that it's sometimes only effective in the short-term, since it's a form of extrinsic motivation. Therefore, EX is better influenced by creating opportunities for intrinsic motivation.
It has been discovered that the biggest company pride and intrinsic motivator that drives engagement for its employees is Facebook. So what exactly predicts pride levels? People's belief in the company's future (optimism), the degree to which they care about the company's goals (mission), and how confident employees feel that the organisation is improving the world in some way (social good).
Cultivating Connections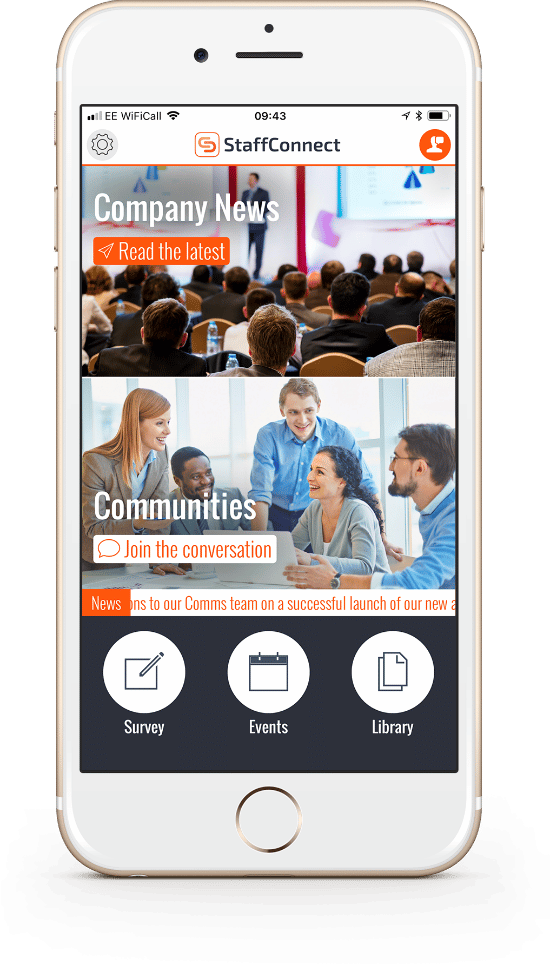 Giving retail employees a sense of optimism, mission, and social good may sound like a lofty ideal—and it is. But at the root of these engagement drivers is connection—whether employees feel empowered to connect with their peers, managers, and the larger company. It's about creating a two-way communication line so that retail workers in any role or location stay in the loop.
A 2016 study found that, the Australian retail industry's average staff turnover rate is 41%, with workers hanging up their hats after just 10 months. Why? —so solving this issue is key.
The retail industry needs a simple solution that can help retailers reach, communicate with, and engage their employees. There is currently only one tool that addresses this panoply of needs—cloud-based mobile engagement platforms. For example, StaffConnect, a mobile employee engagement platform, can boost retail employee engagement. This mobile application can provide staff with a better understanding of the company's mission, which in turn increases their knowledge of the organisation's social contribution.
This type of mobile engagement solution also lets retailers measure and analyse employee engagement over time. Since this mobile platform empowers all employees to share and collaborate, retailers can finally create an emotional connection with their teams that can turn the dial on increasing engagement.
About StaffConnect
StaffConnect comprehensive mobile employee engagement platform. The StaffConnect solution transforms the employee experience by enabling large enterprises to connect, communicate and engage their entire workforce, especially remote, non-desk employees. For further information visit staffconnectapp.com.