As we power toward the most demanding time of year for many retailers, it's tempting to adopt a 'set and forget' mentality when it comes to online marketing. Smart operators know that the pre-holiday rush and January sales are two sides of the same coin and — more importantly — they realise they need to know how to tailor digital campaigns to reap the rewards of both.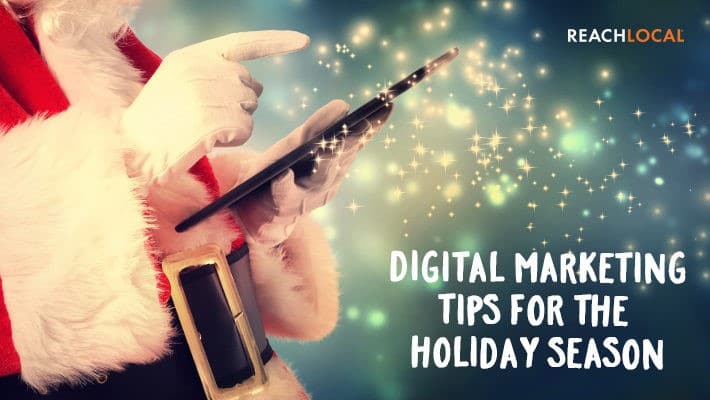 Purchasing behaviour in the pre- (and post-)holiday periods differs from the rest of the year — and from each other. From November onward, buyers are gearing-up for spending, tethered to an increase in social engagements. They are pressed for time and looking for fast answers, whereas post-New Year is usually followed by a few weeks off work and more time to do online research and look for enticing bargains.
You'll need to tweak your digital marketing campaigns to suit both extremes.
Pre-Christmas countdown
Every year, it's the same thing. Winter drags, spring arrives, then five minutes later someone tells you its only 60 days till Christmas. Even if your retail business is relatively untouched by Christmas seasonal madness, chances are your customers aren't.
The November/December rush is not only about retailers selling Christmas presents, but there's plenty of opportunity for service-based retailers to capitalise too – so now is the time to think about seasonal promotions and offers. For beauty salons, that might be bundling a range of treatments together for a 'party preparation' package. For dry-cleaners, it may mean offering a discount on cleaning formal wear and, for gyms it may be a 'post-party season' introductory offer or a 'refer a friend' promotion.
Whatever form your offer takes, it needs to be effectively communicated to your target audience, so this is not the time of year to neglect your online presence.
Don't ignore social
According to research from PayPal, 18% of Australian consumers have purchased something after seeing it on social media. While it may be tempting to forgo social posts as things get busy in your store, social is still an effective and important way to communicate with customers and to drive sales.
Plan and schedule your posts well in advance to let customers know about seasonal promotions and offers. Keeping social platforms active at Christmas will also help boost engagement, allowing you to build strong relationships and a brand presence that continues throughout the rest of the year.
Step-up on search and clean up your local listings
Consumer search increases on the lead up to Christmas, particularly mobile search. Make sure your local listings are accurate and updated to reflect opening hours and any other seasonal changes.
Adapt your search engine optimisation (SEO) strategy to incorporate key words and phrases that are specific to this time of year or to your promotion or offering. If you're not already doing it, consider implementing a search engine advertising program, ensuring you appear at the top of search engine ranking results when customers know exactly what they are after.
Capture local foot traffic
Shoppers are on the move as the year winds down, so make sure you capitalise on that increased local foot traffic. Using location-based marketing techniques, such as geofencing, allows you to target potential clients based on their proximity to a specific location and serve up your ads to their favourite mobile apps.
Facebook advertising
According to PayPal's research, 11% of Australian consumers have purchased via a social media platform and, of those, 75% have purchased via Facebook. You can build a Facebook advertising campaign based on interests, demographics, location and income behaviours, making it easy to reach your ideal audience.
The post-holiday 'slowdown'
The days immediately following Christmas have always been thought of as the opposite of the pre-holiday rush, but the reality is that your target audience is still in research-mode, usually with more time on their hands and probably keen to snare a bargain in the Boxing Day and January sales.
They're spending more time on social media and — online in general — so now is the time to make it easy for customers to find your business and make sure that leads are being captured. It's not the time to press pause on your digital campaigns.
Look and learn
In an increasingly online world, digital marketing never sleeps, so you'll need to continually adapt your strategy throughout the year.
Take the time to look backwards and see what campaigns and initiatives have worked best for you over the last twelve months. Factor in that seasonal differences will also impact your budgeting considerations – you may want to increase Facebook advertising to capture the Christmas rush, for example, and decrease it when you know much of your target audience is away.
The best way to ensure you're getting the results you seek is to have a consistent year-round online presence, but be prepared to be flexible and to make strategic changes throughout the year aimed at growing your business.
For more information on your digital campaigns during Christmas please vist is www.reachlocal.com.au