Toll Group recently launched its new consumer-to-consumer parcel delivery service with the opening of new pop-up delivery hubs in selected Westfield shopping centres. Launching just in time for the Christmas rush, the service provides shoppers with greater flexibility – allowing them to skip the queues and access competitive pricing for fast domestic parcel deliveries.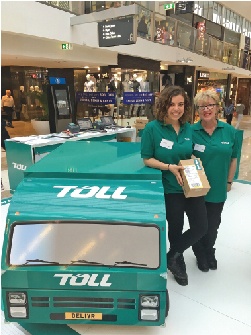 The pop-up delivery hubs, designed to simulate a busy warehouse depot, is open seven days a week at centres in Bondi Junction (NSW), Doncaster (VIC) and Carindale (QLD).
With Christmas just around the corner, shoppers are demanding lower prices and greater convenience for parcel deliveries across both traditional and online shopping this Christmas.
Industry expert and Click Frenzy Managing Director, Grant Arnott, said the initiative is tapping into a market ready for disruption.
"Toll's pop-up delivery service offers a convenient delivery alternative that is both consumer and retail friendly. The retail industry has been calling out for a shake-up to improve logistics and the customer experience. Toll's service is exactly what the market has been looking for to invigorate the shopper experience and stimulate further growth."
"Five years ago, we were talking about the need for retailers to improve their digital shopping experiences at the front end. Most of that part has been conquered now, but the limitations of logistics in Australia has constrained eCommerce growth. It is very exciting to see innovation in this space finally come to fruition," Mr Arnott said.
Although almost 40% of Australians are now shopping online, according to Roy Morgan Research, 85% of Australian shoppers still visit one or more shopping centres in an average four-week period. Therefore, there are enormous opportunities to improve the retail experience for both consumers and retailers through better logistics solutions in both the traditional and digital space.
Luke Condon, General Manager of Consumer and eCommerce, Toll Global Express says, feedback from these pop-up hubs has been overwhelmingly positive, with better pricing and greater flexibility for Australian shoppers
"This innovative service further supports Australian retailers, as it provides their customers with greater flexibility and convenience. Instead of shoppers having to take gifts home, they can send directly to friends and family anywhere in Australia or overseas, all in the one visit," Mr Condon said.
Gearing up for Christmas, Toll has increased its delivery fleet up to 30 per cent in key locations, and increased staffing by 150 per cent to ensure on-time delivery for customers. The investments have boosted Toll's parcel delivery capabilities to process up to twenty-four parcels per minute.
Toll will look at expanding the pop-up delivery service to additional retail outlets during future peak periods such as Christmas and Easter.