"E-comm Firsts," people who begin their shopping journey online aren't just millennials, they include people with higher-than-average incomes who span all demographics. Plus, they're eager and willing to buy both online and in store—if retailers can deliver a seamless experience.
So how do omni-channel merchants bring these online shoppers into the store, where conversions and basket values are higher? In other words, how do you turn "E-comm Firsts" into "Store Nexts?"
Who are the E-comm Firsts?
E-comm Firsts defy easy assumptions about their demographics, behaviour and motivations. They rely on a mix of (increasingly mobile) devices to research and shop online with a keen eye towards convenience.
Why do they start online?
57 percent shop when physical stores are closed while 85 percent shop online just to avoid crowds. Saving time and finding deals are at 79 percent and 78 percent respectively.
How do they buy?
26 percent start shopping online and complete their purchases in store. These shoppers are your "store nexts." For shoppers who start and complete their purchases online only, around 76%, these are your "E-comm Only's."
What brings E-comm Firsts into the store?
E-comm Firsts increasingly demand a seamless experience between their online experience and the store. That means knowing inventory availability before they go to the store, the ability to pick up items same-day, and store associates who can offer greater insight and convenience than other channels.
What turns an E-comm First into a Store Next?
They want the opportunity to save money, interact with helpful salespeople, convenience (e.g., same-day pickup) and they may have already established a positive history with the store.
Shopper expectations and retailer capabilities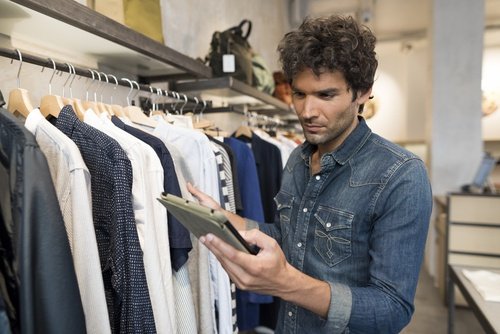 7 out of 10 shoppers think in-store product availability is important while only 50 percent of retailers display in-store product availability on website and only 15 percent offer options to filter results to display only inventory in stores.
What attracts them tobuy online, pickup in store?
35 percent of shoppers have used Buy Online, Pickup In Store in the past three months, attracted by:
-zero shipping costs (88%)
-ease of browsing online vs. in store (77%)
-instant gratification (51%)
When are they more likely to engage with mobile-enabled sales associates?
39 percent would engage with a store associate equipped with a mobile device, regarding:
-product information (69%)
-inventory availability (60%)
-faster checkout (35%)
Turn E-comm Firsts into Store Nexts
Converting more E-comm Firsts into Store Nexts, and then closing the sale in store, is a top priority for today's omni-channel retailers. To succeed, leading retailers have found that selling online and in store are better together. They're turning to enterprise order management and store inventory management systems (integrated seamlessly with point of sale and store fulfillment applications) to make it happen.