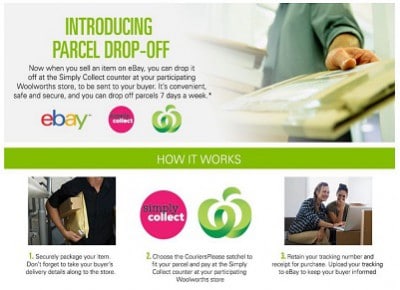 Woolworths and eBay have partnered to launch a new pilot parcel drop off service at five Woolworths supermarkets across Sydney.
The service will allow local eBay sellers to a sold item to a Woolworths store and have it shipped by CouriersPlease directly to thee buyer.
The fixed cost service is priced to compete with traditional shipping methods and remove the hassle of working out postage costs and only being able to post parcels during business hours.
Participating Woolworths stores include Lane Cove, Neutral Bay Village, Northbridge, Double Bay, and Balgowlah.
Steve Brennen, Senior Director Marketing and Retail Innovation at eBay said the service follows on from the launch of the online auctioneer's click and collect partnership a year ago.
"We shook up the industry by allowing smaller sellers and their customers to take advantage of extra convenience and efficiency. Now we're using our expertise to remove some of the friction involved in selling too," said Mr Brennen.
"We see this as the natural extension of a partnership that has exceeded expectations to date. The click and collect partnership has rolled out nationally eight months ahead of schedule, with more than 10,000 sellers taking advantage of the program that has sent an additional 200,000 shoppers into a Woolworths or Big W store."