There seems to be one question on everyone's mind for 2023 – when will retail sales growth slow?
As the consumer economy bifurcates into a fast lane and a slow lane, retailers in the fast lane are listening to the desires of future shapers to stay ahead of the curve. 
In 2023, the reality of ongoing cost pressures means that retailers will make difficult decisions about prioritising capital allocation. We predict that retailers will centre on identifying, improving, and creating efficiencies across all areas of their business. 
Will Retail Sales Growth Slow in 2023?
There seems to be one question on everyone's mind for 2023 – when will retail sales growth slow? We address this question below, but there are other issues Australian retailers will need to address this year including:  
The ability to raise prices further, 
Managing the size and quality of their inventory, 
Dealing with high wage cost growth, and 
Through a revival on online sales growth.
We expect retail sales growth will moderate considerably in 2023, which follows three consecutive years of above trend growth. Sales growth in 2023 is likely to drop to low-to-mid single digit growth beyond the March quarter of 2023. Some categories will reach declining year-on-year sales likely later this calendar year.
Chart: Retail sales growth for calendar 2022 compared with 25-year average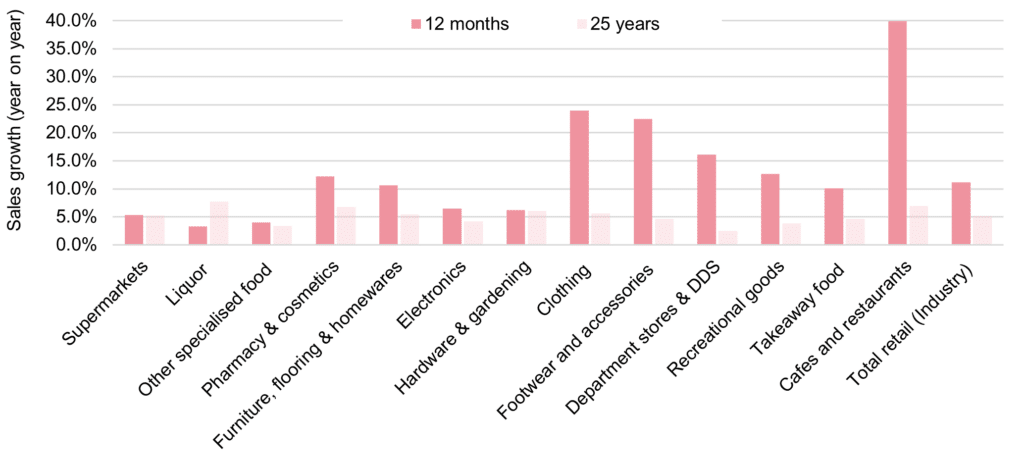 Chart: Contribution of price and volume to outsized growth over the past three years (to Sept 2022)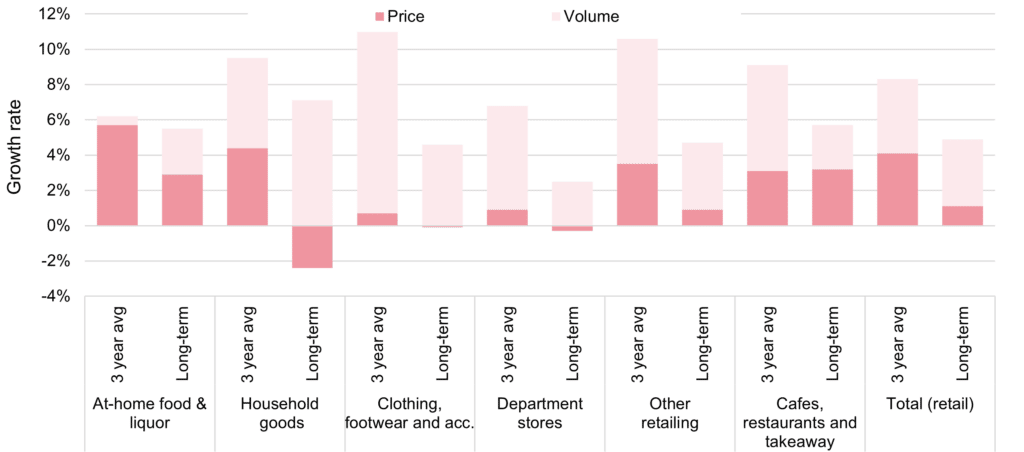 Long-term defined as 25-year average.  
Source: ABS, MST Marquee 
Chart: Retail price inflation in 2022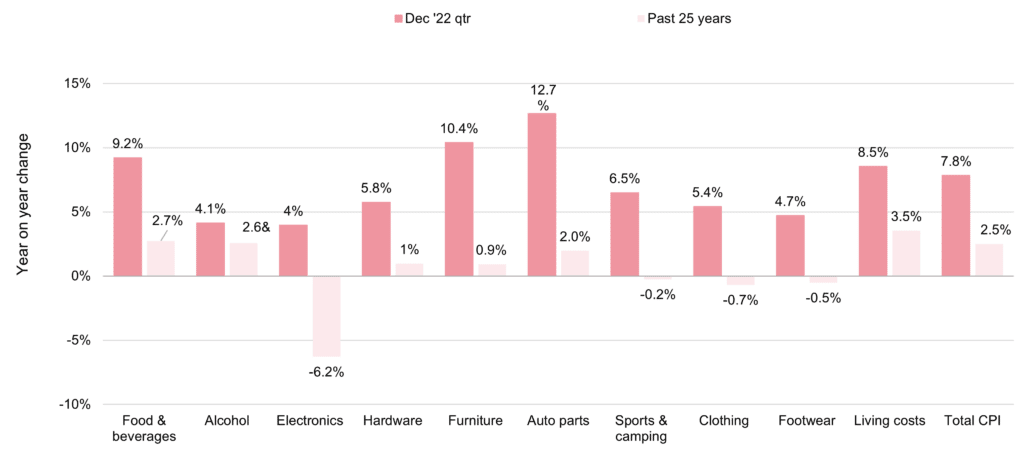 Chart: Australian retail inventory to sales percentage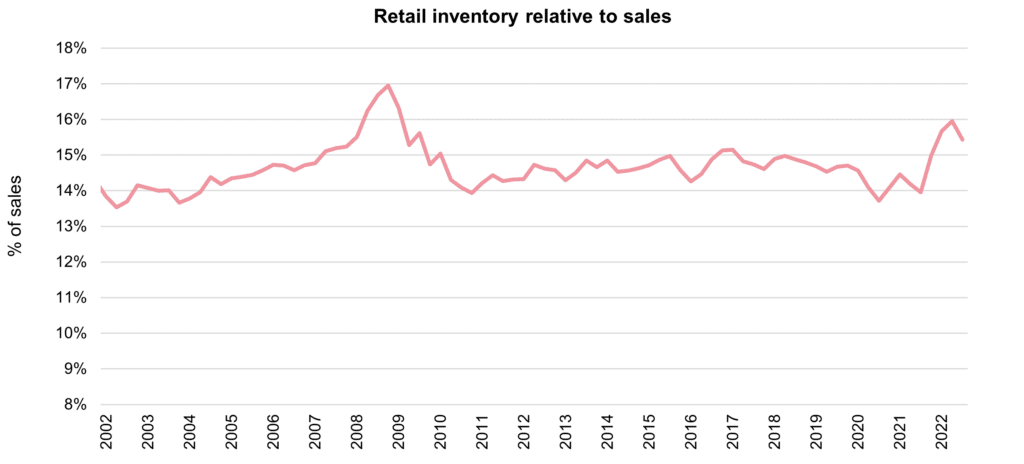 Chart: Retail wage cost growth and CPI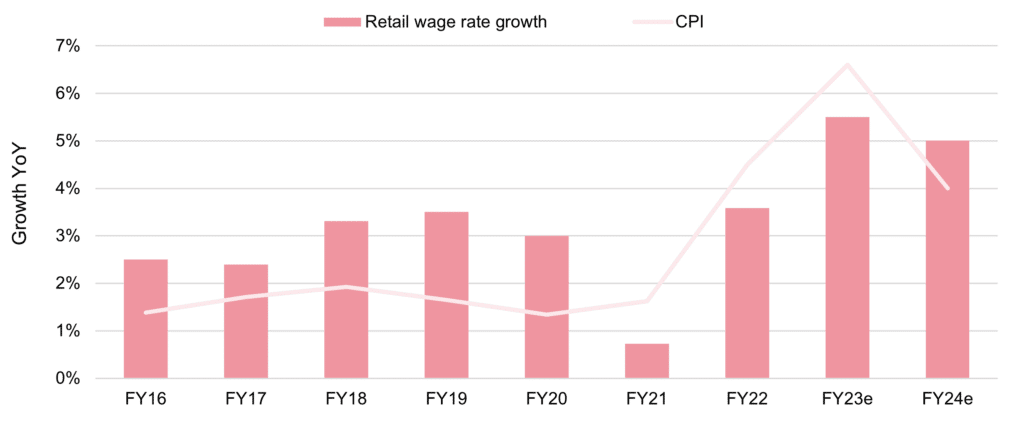 Chart: Australian online sales penetration trend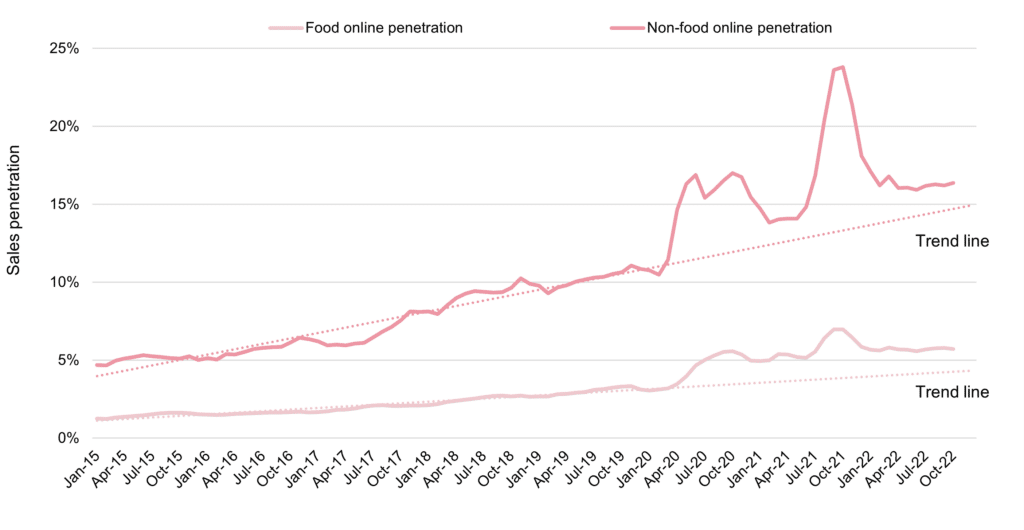 Craig Woolford is the Director of Retail Mosaic. Craig and his team regularly produce reports under the MST Marquee brand about the Australian retail industry and the largest retailers in the country. For more about the outlook for the retail sector and publicly listed retailers, please visit the website at www.retailmosaic.com.au.   
Five Future Retail Trends
As the consumer economy bifurcates into a fast lane and a slow lane, retailers in the fast lane are listening to the desires of future shapers to stay ahead of the curve. 
Moving towards zero friction is a key trend. For example, supermarkets are reducing 'friction' by giving customers the option of self-checkout, while simultaneously reducing their own staffing pressures.  
There's nothing new about retailers transferring work from paid staff to customers. It started in the early 1900s when American supermarkets moved from having an assistant behind the counter gathering products for customers to having customers do all the gathering and paying at checkout. 
A century later, supermarkets introduced self-checkout, and despite its many shortcomings, both for customers and store owners, it is spreading. But already, this innovation is being superseded. 
Amazon is disrupting self-checkout by making all kinds of checkout obsolete. In the 28 Amazon Go grocery and convenience stores in the US, a shopper scans in at the front door and then just bags all the products they want and walks out – no product scanning, no checkout, just pick and leave. 
As one online reviewer wrote, "Went in, grabbed a croissant and was out literally in 17 seconds. The future of retail." Could life be more frictionless?  
Social media is also changing the shape of retail's frictionless future. The majority of Gen Z shoppers like shopping directly on social media – they're clicking links that connect them to digital or omnichannel retailers, and they're doing it without leaving Instagram or Tik Tok. They buy what they want instantly and then insist on immediate delivery. 
Future shapers want super-fast delivery. Online fashion retailer The Iconic offers paid deliveries within 3 to 5 hours. Liquor retailer Dan Murphy offers 2-hour paid delivery. 
In a world of future shapers' need for instant gratification, retailers who fail to offer super-fast delivery as an option will get caught in the slow lane.  
Competition in the retail industry will increasingly be based on holistic customer experiences – emotional, affective, cognitive, social and physical experiences. And that can only be achieved through the integration of all retail channels, like stores, online, and mobile, into a single, frictionless customer experience. This is omnichannel.
The future of omni-channel requires seamless integration between channels. For example, digital voice recognition technology such as Amazon's Alexa or Google Home could help make digital shopping a daily activity. 
 Further innovations like augmented and virtual reality give digital customers some of the theatre of a physical store.  For example, VR applications put consumers inside the virtual store to experiment with different looks in fashion, homewares, and make-up. 

The secret? Just make your customer the hero of your omnichannel strategy, and your future will take care of itself. 
An omnichannel customer spends  1.7 times  more than a single-channel customer.
Customers want to 'stand in the store' when they're online. And they want to research products on a smartphone or tablet when they're standing in the store.  
Commoditisation consigns a retail brand to the consumer economy's slow lane. Premiumisation is the antidote to commoditisation and occupies the fast lane of the consumer economy.  
Our data science shows that 5 million Australians, known as NEO consumers, drive in the fast lane. These are the premium consumers, the future shapers, and, most importantly, they are the value creators.  
In Q1 and Q2 of 2023 (dotted lines below), the fast-lane NEOs are forecast to spend 2.65 times more on retail than their slow-lane 'traditional' cousins. 
What this data reveals is that the many retailers chasing the 10 million traditional consumers face an existential crisis as the economy slows.  
A word of warning: premium and affluence are not interchangeable. NEO is a consumer mindset, not just a full wallet, and psychology is what creates retail trust and creates future retail value.  
Despite cost-of-living pressures and rising interest rates, premium consumers go right on spending more, more frequently, creating more value than anyone else.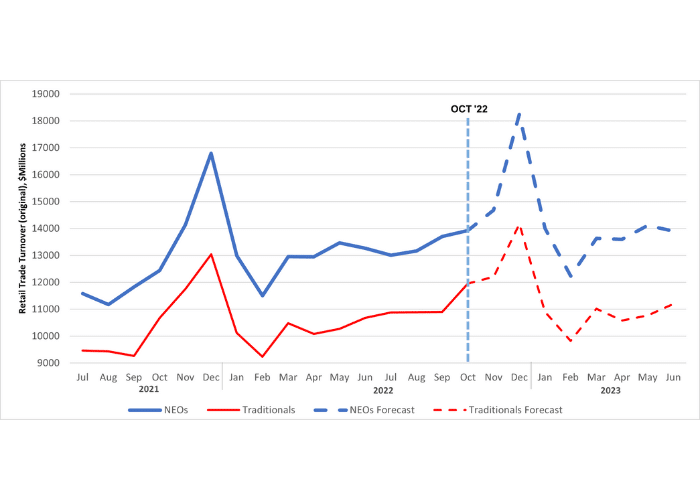 A flagship store is the new retail brand strategy, but to become a destination, the flagship of the future must: 
 A word:  At the other end of retailing, the future will also be defined by 10 micro-stores of 40sqm rather than one traditional store of 400sqm
The dramatically reduced rent, set-up costs, and running costs of micro-stores deliver more profitability much sooner.  Additionally, online retailers are increasingly seeking small spaces to display their products.  
Future shapers are drawn to flagships for an amazing experience and to micro-stores for relevance and speed. 
Will changing consumerism and advances in technology and supply chains see manufacturers become the new retailers?
D2C, or direct-to-consumer, is a global trend that started relatively recently as the line between retailer and manufacturer blurs.
Manufacturers have for decades built digital relationships with their end consumers, but typically it was to build their brand, generate loyalty and drive sales in retail stores that stocked their products.
In the future, however, manufacturers will increasingly sell direct to consumers, perhaps offering different product ranges than those available in store, depending entirely on the manufacturer's brand strength. Apple, for example, sells direct to consumers online, through its own stores and through third-party retailers. But not everyone's an Apple.
This new personalised relationship between maker and consumer may well pose a direct threat to the traditional retail business model but will likely be most prevalent in the premium and luxury sectors.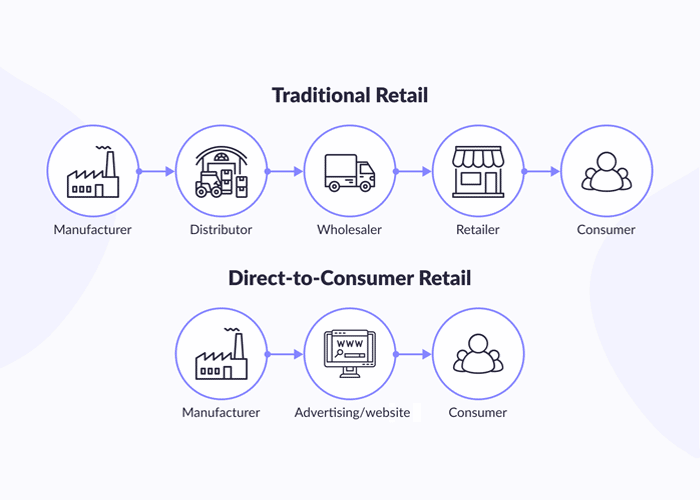 The future trends all point to one inescapable reality – future-shaping customers are demanding something different from retailers. The existential question is, can you hear them?

2023 – The Year of Agility
Melissa Dean

National Retail Leader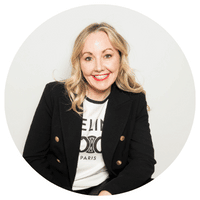 Significant change brought on by the pandemic aftershock has bred a new level of confident resilience in retailers. While the year of the great 'pivot' is behind us, the retail sector continues to enhance its adaptability. Against a backdrop of major fluctuations, our sector has continued to innovate and unlock the potential of technology to deliver differentiated, impactful customer experiences. 
In 2023, the reality of ongoing cost pressures means that retailers will make difficult decisions about prioritising capital allocation. We predict that retailers will centre on identifying, improving and creating efficiencies across all areas of their business. This approach will allow retailers to unlock the true value of their business, creating an environment that allows for sustainable, profitable growth. 
Leading retailers will evaluate how they've been most productive in recent years, hone their omnichannel approach, build transparency and ESG into their value chain and look to supply chain management and digital commerce to grow profitability.  
The word for retailers in 2023 is agility, as we uncover 5 key trends. 
 #1 
Transforming omnichannel experiences through innovation

 
Connected, seamless omnichannel experiences will continue to be a focus in 2023. Retailers will distinguish themselves by engaging directly with consumers, growing communities, and actively encouraging interaction with their brands.
There has been discussion about the balance between digital and physical, but it can no longer be a dichotomy. The 2023 Deloitte Retail Industry Outlook1 found that among industry leaders, nearly eight in 10 executives believe omnichannel experiences are a key growth opportunity in 2023. The future of retail will be omnipresent and accessible at any place and time. Channels are no longer siloed, one-way paths to purchase: as shoppers create their own journey, retailers need to integrate for a seamless experience.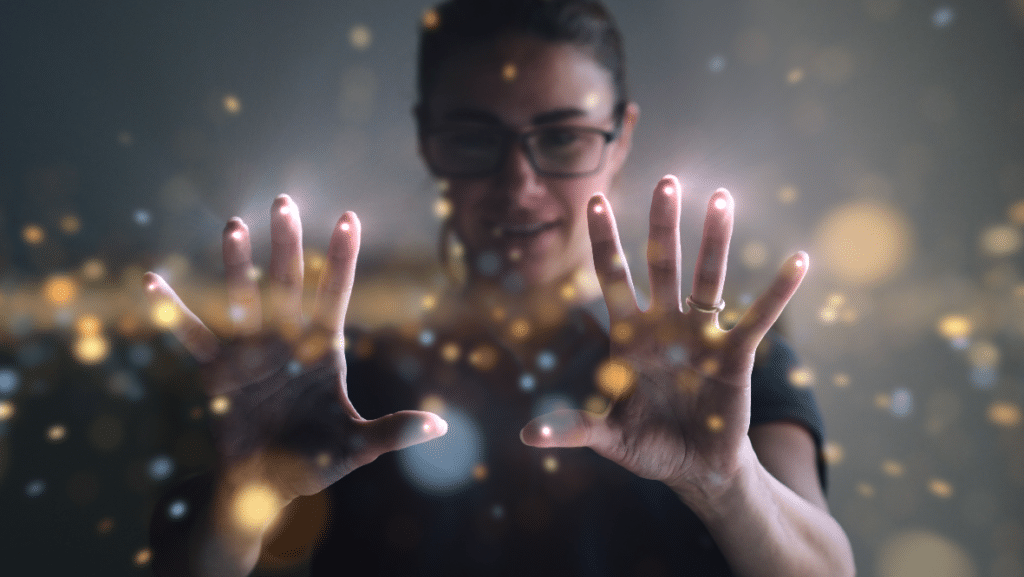 The ability to communicate and serve consumers where they spend most of their time means that we will see more retailers focus on AI-driven technologies, social commerce, and gaming as a growth opportunity. Likewise, the demand from consumers for physical experiences will force retailers to offer immersive, technology-charged stores as standard. For example, Italian luxury goods retailer Ferragamo has an NFT booth in its Soho New York store, where shoppers can create a designer NFT and post their video. 
Further into the future, we expect this coalescence to result in the dawn of the Everything Net, a circular experience where the lines of physical and digital worlds are blurred and retail has the opportunity to fully integrate into consumers' day-to-day.  
 #2
Unlocking value and creating trusted digital 

communities

 
Digital in retail began with text and image, now moving to a place where shoppable videos, livestream and digital entertainment are integrated into the purchase journey. As an example, live commerce company Firework partnered with Gap to launch a shoppable livestream that garnered 3 million viewers.  
However, interacting with consumers in an increasingly digital world raises concerns about data, privacy and trust. Responsible data use and cyber security must come hand in hand with developing digital experiences to ensure that brands maintain this loyalty and trust.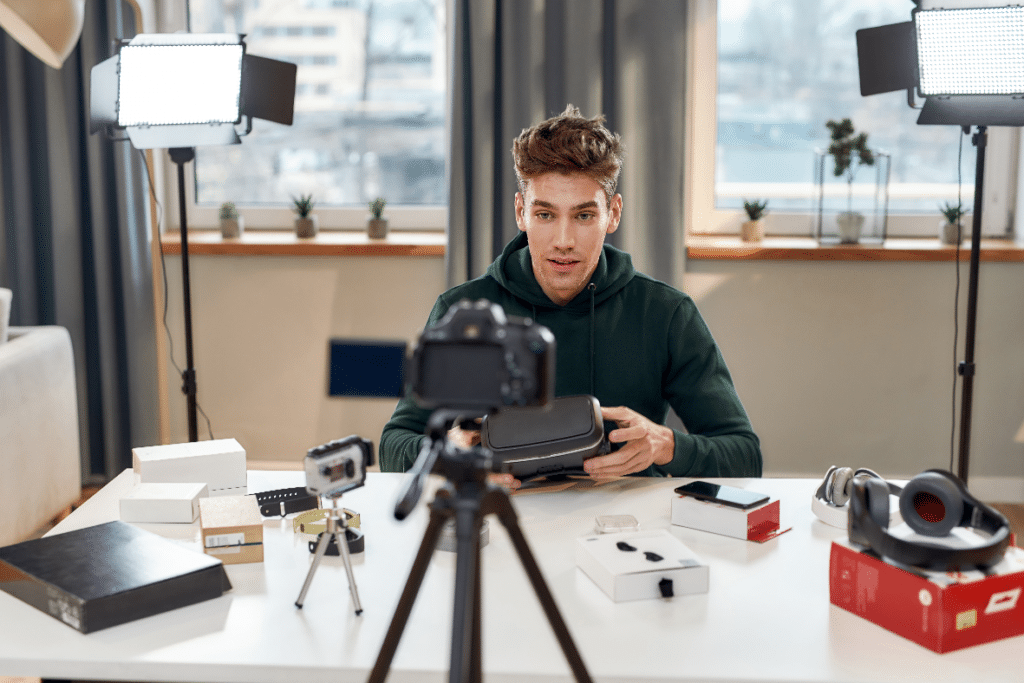 Meaningful touchpoints with consumers beyond traditional retail spaces are on the rise, including a focus on leveraging social commerce to foster connections, strengthen brand relationships and loyalty.
The 2023 Deloitte Retail Industry Outlook found that six in 10 retailers expect consumers to purchase products on social media in 2023. For example, 60% of Gen Z and 56% of Millennials planned to use social media as part of their holiday shopping (2022 Deloitte Retail Holiday Survey2).
#3
Leveraging new technology to streamline supply chain 

 
Streamlining and future proofing supply chains will continue to be a priority in 2023. New technologies will enhance data capture and transparency, create efficiencies and increase productivity. According to the 2023 Deloitte Retail Industry Outlook, seven in 10 retail executives anticipate supply chain disruptions will impact growth in 2023, and eight in 10 plan to make moderate to major investments to modernise their supply chain.  
The survey found that industry leaders are investing in micro-fulfillment centres to create more profitable last-mile delivery solutions, leveraging data capabilities to optimise logistics, considering nearshoring and investing in sustainable technologies.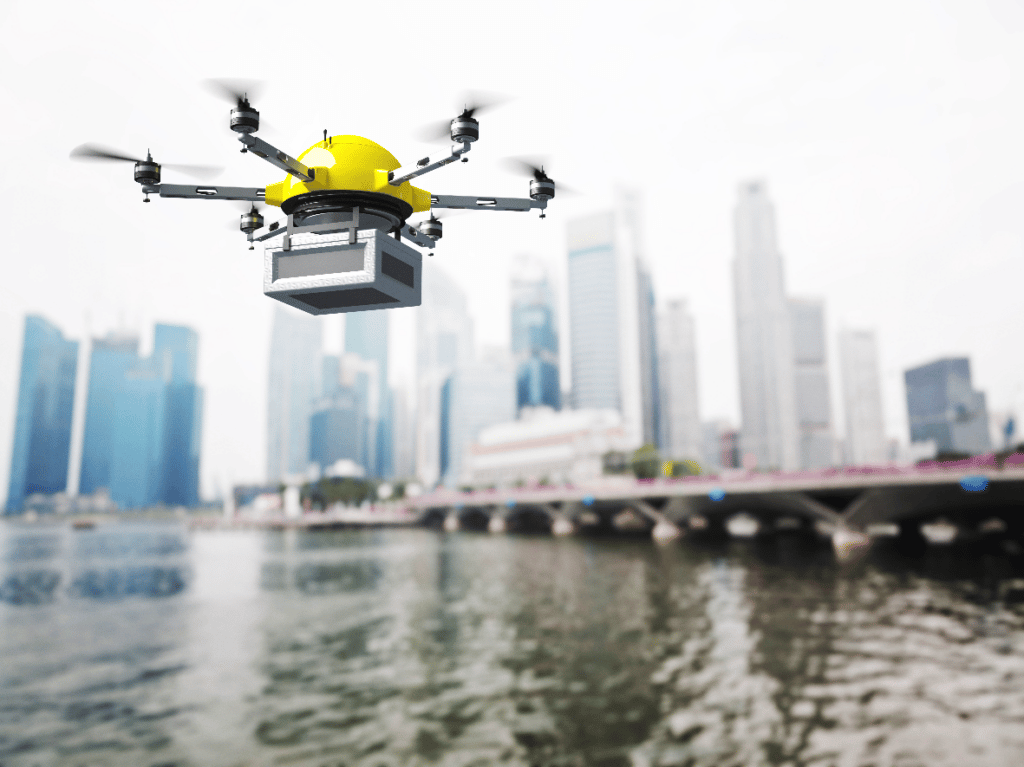 Macy's overhaul of its supply chain reflects recent trends of diversification and nearshoring, collaborating with key suppliers on freight logistics and delivery service UPS to optimise last-mile solutions. It also significantly reduced delivery distances for American customers by converting one million square feet of unused shop floor into 35 regional warehouses and micro-pop ups. With a large floor space department store legacy, Macy's is truly innovating with last-mile solutions.3
  #4
Nourishing people, planet and society
Retailers across the globe have made significant net zero commitments.  
Emerging customer and industry values are generating a stronger focus on ESG (Environmental, Social and Governance) commitments as something that must be embedded in every aspect of business.  
For retailers, ESG-infused business models can benefit performance, with sustainability identifiable as a key decision driver for growing Millennial and Gen Z consumer segments. The Deloitte 2022 Retail Holiday Survey saw most respondents say they believe consumers will pay more for sustainable products with a compelling value proposition.  
Climate change is the issue of our age. As retailers are responsible for a large portion of global emissions, it is important for our sector to focus on sustainability and work towards reducing the carbon footprint of operations.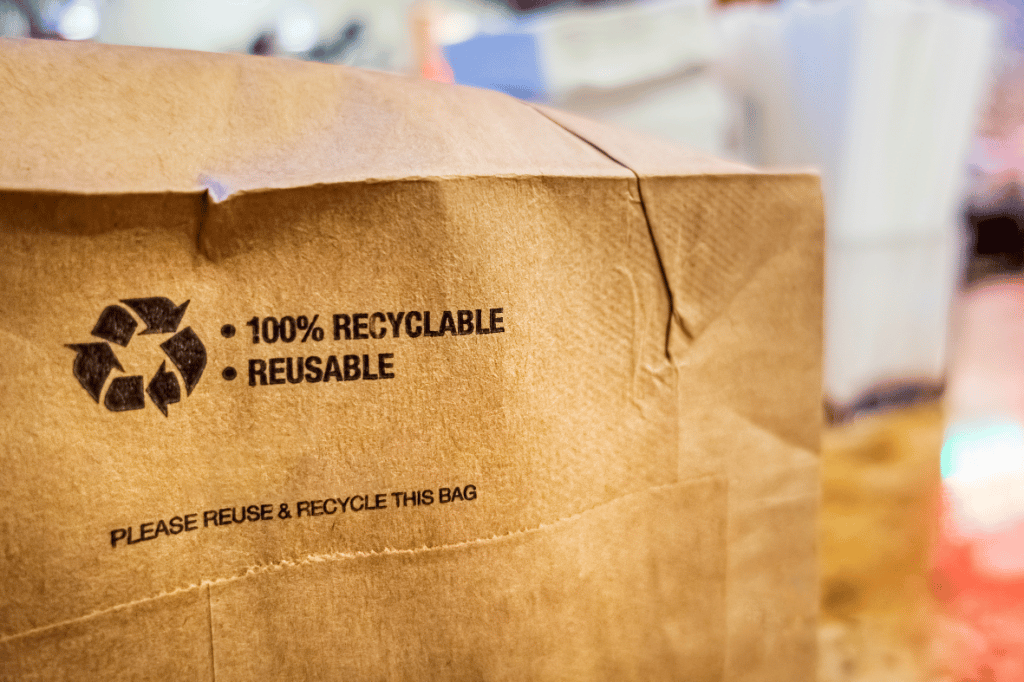 This means looking for ways to become nature positive by reducing energy consumption through renewable energy sources, investing in energy-efficient technology and using more sustainable materials. Retailers should also look for ways to reduce their reliance on single-use plastics and packaging. 
Finally, retailers should look for ways to reduce waste and move towards a circular economy. This means investing in programs to reduce and reuse waste, as well as programs to recycle and repurpose materials and products.  
 

#5
Personalising for the changing consumer and sales associate
Eight in 10 retailers surveyed in the 2023 Deloitte Retail Industry Outlook consider the changing consumer as one of their greatest challenges and 93% say keeping up with changing consumer demands is a priority.  
Hyper-personalisation is likely to rise in 2023, as retailers are sitting on a wealth of data that can be leveraged to predict behaviours. Leveraging this data to create useful digital tools for store associates will open the door to personalised experiences, with associates better armed to manage customer experience. This includes in-store shopping experiences using facial recognition, virtual reality and augmented reality, or the use of mobile apps to keep associates informed and customers happy. Consumers know brands have the data and expect them to use it.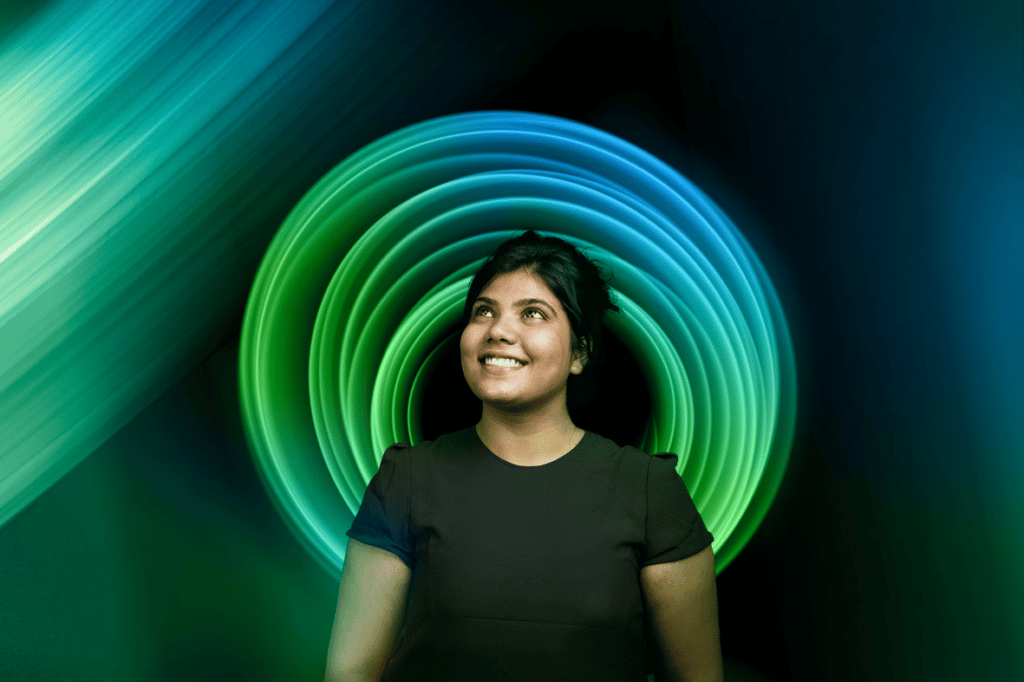 The US-based 'American Girl' empire has invested heavily in an experience-led strategy. It has built a full in-store omni-experience, from a doll restaurant to a doll hospital, and even offers ear piercings for customers and their dolls. Retailers are becoming more aware that customers are looking for an engaging, interactive and memorable brand experience. 
Although the year ahead is not without its challenges for the retail industry, strong yet empathetic leadership will open the door for retailers to thrive.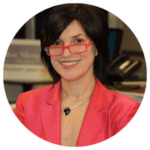 With over 30 years' experience as a researcher, Michele has been responsible for thousands of surveys, including many of the largest research projects ever undertaken in Australia, many of which continue to play a critically important part in shaping our society today.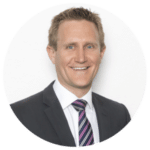 Craig Woolford is the Director of Retail Mosaic. Craig and his team regularly produce reports under the MST Marquee brand about the Australian retail industry and the largest retailers in the country. For more about the outlook for the retail sector and publicly listed retailers, please visit the Retail Mosaic website.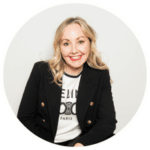 Melissa Dean

National Retail Leader

With over 20 years of providing digital transformation, integrated customer experiences and innovative technology consulting services to a range of clients, Melissa specialises in the retail sector and leads Deloitte's National Retail practice. This team comprises retail specialists across all of Deloitte's capabilities, from digital and cyber transformation, all the way to workforce and sustainability, and focuses on providing high quality advice and solutions to Australian retailers while also drawing on Deloitte's global retail expertise.