Scentre Group's Westfield SmartScreen Network has made its debut to the Group's New Zealand shopping centres.
The 175 interconnected digital screens showcase the latest in-unit design and advertising technologies to deliver advertisers a more sophisticated way to connect with Westfield's customers.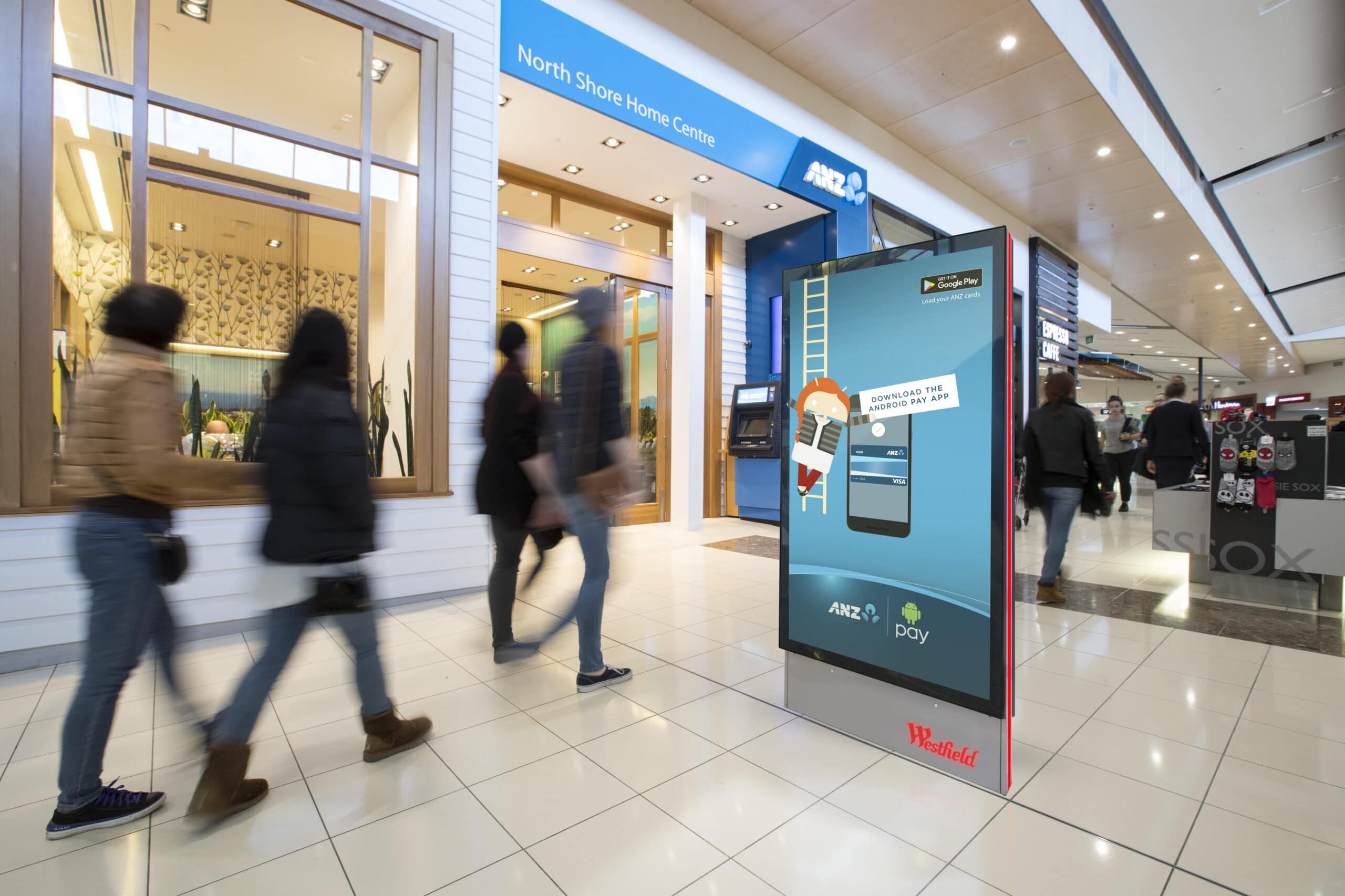 The Westfield SmartScreen Network will be fully operational in the Group's New Zealand shopping centres from Monday 27 March. A first look at this new network in play can be seen at Westfield Albany from today – the first of five centres to be deployed by the Group in a rolling installation program.
Critically, these screens form part of the connected digital screen network of over 1,500 SmartScreens and SuperScreens positioned to influence every shopper journey across 46 shopping centres, including 39 Westfield shopping centres, in Australia & New Zealand.
Bill Burton, Group GM Brand and Media Experience, says "We've created the Westfield SmartScreen Network to drive brand success at retail. We design, build, lease, manage and care for these shopping centres every single day – retail is what we do. We've used all of that knowledge to ensure the Westfield SmartScreen Network gives brands a powerful way to reach, engage and convert Westfield shoppers."
"The Westfield SmartScreen Network will fundamentally change the way brands can maximise their use of the Westfield retail marketing environment. It gives them a level of quality, geographical coverage, control and digital flexibility that they have been waiting for, enabling digital efficiency and effectiveness never before seen in New Zealand retail."
"The vision for us is to connect brands and advertising partners with over 46 million shopping visits a year and drive energy and sales to over 800 retail destinations in our centres in New Zealand.
Built on the premise that every screen counts, each location has been hand-selected to ensure the Westfield SmartScreen Network offers advertisers access to every shopper journey within Westfield shopping centres. Brands can take advantage of the entire network, or just the locations that suit their objectives.
"It's a smarter way to communicate with Westfield customers. We're inviting advertisers to re-think retail – to communicate with the valuable Westfield customer audience all through a world-leading, 21st century digital screen network, right at the point-of-purchase," Burton adds.
Major brands, including Nespresso; Sky TV; NIVEA; Holden; Fisher & Paykel and Vodafone are amongst eight world leading brands that have come on board as Westfield SmartScreen Network launch partners to be showcased across the digital screens from next Monday.
The deployment of the Westfield SmartScreen Network further reinforces Scentre Group's commitment to invest in innovation and digital technologies that enhance the retail and customer experience in Westfield shopping centres.
As retail experts, Scentre Group has made a significant investment in this technology. A purpose built facility, the LAB based in Sydney Australia has assembled and dispatched all 175 SmartScreens to the New Zealand market.
"Having the LAB as an in-house capability to produce our SmartScreens ensures we have complete control over the quality and delivery of our network and demonstrates our commitment to delivering industry-leading retail media solutions," concludes Burton.
The Westfield SmartScreen Network is the latest addition to a powerful range of marketing solutions available to advertisers and retailers, including, digital, experience, sponsorships and other tactical media assets.
About Scentre Group:
Scentre Group is the owner and operator of Westfield shopping centres, employing approximately 2,000 staff in Australia and New Zealand. Scentre Group has interests in and operates 39 centres located in Australia and New Zealand, encompassing over 11,545 retail outlets and total assets under management of $47billion.
For further information contact:
Shruti Dhalwala, Sibling Agency 02 8081 7093, shruti.dhalwala@siblingagency.com.au
Georgia Branch, Westfield PR & Social Media Manager, 02 9358 7093 gbranch@scentregroup.com